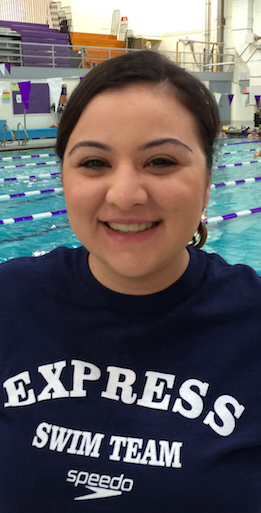 Lorena Salinas
Supersquad/Bronze Coach



Jennifer Heyer-Olsen
Senior/Gold Coach
Adrienne Moeller
Age Group / Senior Coach
Judy Busse
Head Coach / Senior Coach
Graduated from Naperville Central High school ... swimmer and gymnast. Former member of B.R. Ryall Swim Team. Attended Eastern Illinois University and received a degrees in Physical Education, Health and Driver Education ... 4-year swimmer and team captain. Masters Degree in Educational Administration from the University of Illinois - Urbana-Champaign Coaching Credits - Express Swim Team Head Coach, Founder, CEO/President (15 years). Downers Grove North HS Head Girls Coach (32 years) Retired Teacher and Adminstrator - Downers Grove North High School - 30 years of service. Illinois Swimming Board of Directors (Former)- Secretary (16 years). IHSA Girls Swimming & Diving Advisory Committee Member.
Kris Carson
Senior/Gold & Administrative Coach
I started my swimming career at the age of 7 with the Naperville Park District swimming organization. I expanded my swimming to the Naperville YMCA swim team, and later switched to the Academy Bullets. I swam and played water polo at Waubonsie Valley high school, and went on to play water polo at Baylor University in Texas. After graduating high school, I began my coaching career at White Eagle in Naperville (NPD swim team) and started with Express at the age of 22. I have been an assistant for the Downers Grove North girls team for 10 seasons now, and was with the boys for 3 seasons. I was the head coach of the Nazareth Academy girls for 2 seasons before the school cut swimming. I have also coached water polo at Oak Park-River Forest high school. I have also had the priviledge to work the swim camps at Auburn University for 3 summers where I was able to work side by side with and learn from the best in the swimming world! I am also currently the head coach for the Breckenridge Breakers in Naperville in the summers. I currently work at Downers Grove North as the pool supervisor. When I'm not at the pool, I fill my time selling Tastefully Simple, volunteering in my church nursery on Sunday mornings and am one of the leaders of Stephen Ministry at my church. I have also recently gone back to school to get my teaching certificate in Special Education to fulfill my dream of becoming a high school Special Ed. teacher.
Kira Murphy
Silver Coach
I have been a competitive swimmer since age 8. I began swimming for Express, in the teams first season, at age 11, and my career with Express continued through high school. I attended Downers Grove North High School, where I was a 4 year varsity team member and 3 time sate qualifier. I went on to play division I water polo at Marist College, in New York. I continue to have an active swimming career competing in Master's meets and open water swims. My favorite events are 50/100 free and 50/100 back and I never turn down a chance to be in a relay! My coaching career began with Express my senior year of high school, continuing summers during college. Since 2009 I have been coaching Express year round. In the past 8 years with Express I have coached all age group levels from Super Squad to Gold, but have been really enjoying the past few years coaching the Silver groups
. I also have my master's in art therapy and currently practice at a therapeutic day school in the northern suburbs.
Lissa Stanley
Lead Coach / Bronze
Coach Lissa graduated from Hinsdale Central High School where she was a swimmer and softball player. Lissa was also a member of the Hornet Swim Club as an age grouper. She graduated from Lawrence University with a double major in Math and Spanish. While at Lawrence, she was a 4-year member of the swim team and team captain. In addition, Lissa was a 4-year member of the softball team. Coaching credentials - Lissa was a part of the first charter coaching staff with Express and also coached at the Downers Grove YMCA. Lissa will be coaching the Bronze training group.
Connelly Lems
Bronze Coach